Sri Lanka Driver & Guide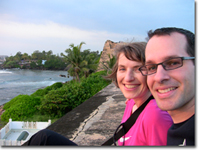 Relaxing in Galle
*See what other tourists have to say about Sisi in our guest book.
Sisira Weerasinghe was our driver and guide on a 3 week trip to Sri Lanka. If you're planning a trip there, the first thing you should do is contact Sisi and enlist him as your guide. Not only is he extremely trustworthy and safety conscious, but also incredibly knowledgable and couldn't be more friendly. Our trip wouldn't have been half as enjoyable without him. We're not getting paid to make this site and have no relationship with Sisi other than having hired him as our driver (based on the recommendation of a hotel owner). We were so impressed with his service and knowledge that we decided to make this website so others could have the same great experience we had with him.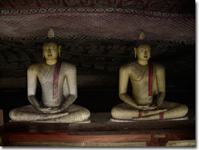 Dambulla Caves
Sri Lanka is a beautiful country with spectacular beaches, jungles, mountains, and wildlife. The food is outstanding, and there are many interesting sites throughout. It is possible to travel by train or bus, but much of the fun of travel in Sri Lanka comes from being able to stop and go as you please, visiting villages, restaurants, and road side stalls along the way. While we did enjoy our initial trip by train from Colombo to Galle, as soon as we met Sisi for the rest of our trip we realized how much we'd be missing without him.
Ella Gap
We've hired drivers and guides during trips throughout the world, and many of them have driven extremely fast and dangerously. Sri Lanka definitely has its share of crazy drivers, but Sisi is not one of them. He got us everywhere we wanted to go quickly but safely, and we could relax the entire time knowing we were in good hands. The other problem we had prior to hiring Sisi (and which we had heard about from other tourists) is that drivers constantly take you to gem shops, souvenir shops, restaurants, and hotels where they get a cut of your purchases. While we don't mind this in general, with other drivers we felt we were constantly being ripped off. Sisi was the opposite. He only brought us where we wanted to go, and we never felt we were only a source of income for him.
Sisi's son-in-law's restaraunt
The food in Sri Lanka is delicious, and Sisi was a great help in finding the best local dishes. One of the best meals of our entire trip was at his son-in-law's restaurant in Ella. Sisi mentioned his son-in-law had a restaurant, but didn't push us at all toward eating there. It's a small place off the beaten path. We arranged to have dinner there one night while we were in Ella, and it was a terrific feast with six different curries we hadn't seen anywhere else. And, the price was better than any other restaurant we had been to.
Sisi lives in Ella, but as Sri Lanka is a relatively small country you can arrange for him to meet you anywhere, including for an airport pick up. If you're not sure exactly where you want to go or how long you'd like to spend in each place, contact Sisi and he'll be happy to put a tour together for you. Highly recommended!
David & Birgit